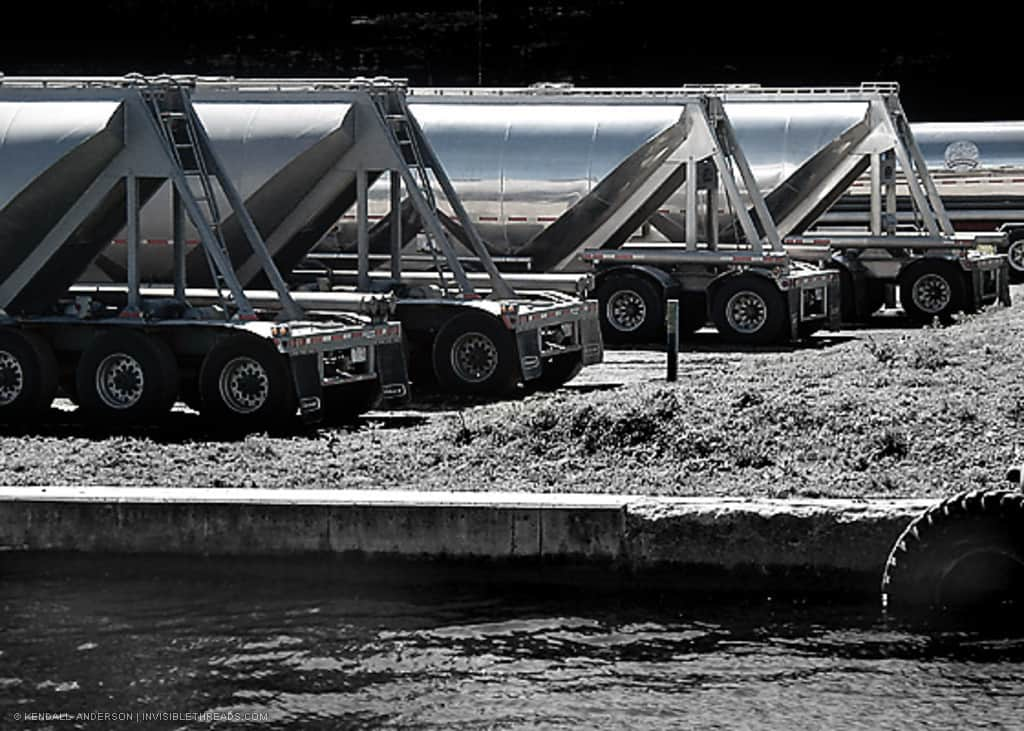 Journey
Jun 14, 2004
These trailers are about to be taken on a long.. journey — the theme for this week's PhotoFriday challenge. The trailers are in front of a large freighter at the docks by Cherry Beach (the large black shape behind the trailers is the freighter).
This was taken from the boat during our Toronto Harbourfront tour on Saturday. Most other people were taking photos of sailboats and skylines, while I'm here taking photos of industrial sites, warehouses, abandoned silos and — tractor trailers. I was trying to decide whether to post this photo or another of the Toronto skyline from Toronto Island. The other photo is very postcard-like and, while it's nice, it's still a postcard shot (which in my opinion means, nice beautiful colours, but only interesting for about 1/10 of a second). I can only see so many photos of skylines, flowers and pet dogs before I snap. Hmmm.. I suppose I should end this unforeseen rant right about now...
Other news...
So.. another busy weekend and I've managed to *not* complete half the tasks I wanted to. In particular I wanted to assemble a gallery of images documenting the demolition of the Loblaws Food Bank building. That didn't happen. Luckily, I still have another day or so to go before the building is completely gone — so I suppose I have a valid excuse there.
I meant to get out to a site I was at last week to take more photos - didn't happen. Hence, no gallery there either. Sigh..
On the other hand, I did get to something I've been meaning to do for awhile — which was to replace the entire commenting system for this site. So you may notice now that comments are displayed directly below the photo notes (i.e., this text) and you can add a comment directly from the photo page. It may not be 100% complete yet, but it seems to be mostly functional. Please let me know if you run into any problems! As well, writing the comments engine from scratch allowed me to include the number of comments for each photo on the archives page — yes, more stats for stats junkies.
And... that's all for this long-winded Monday morning post.