About Us
Invisible Threads is located in Toronto, Canada and run by Kendall Anderson: a programmer formally trained as an architect who spends too much time playing with a camera.
He's been developing computer applications for over 2 decades and working with photography since the mid-1990s.
We focus on 2 things: photography and interactive media. This site is about the photography. It's an on-going experiment — an excuse to take photos and get better at the craft of image-making.
The Photography
There are two main sections:
The Galleries contain photo collections of abandoned or discarded environments.
The Archives let you search for gallery and other photos by keyword.
Some of the popular galleries are:
And finally, here are some of my favourites.
Photography Prints and Licensing
Some of the photos on this site are available for purchase through our Redbubble.com store portfolio. Photos available this way will have a "Buy print" link below the image. All prints and products are fulfilled and shipped by Redbubble.com.
Visit our RedBubble store portfolio
Otherwise, most photos are available as custom prints or for licensed use.
Pricing will vary depending on the request but as a general guideline, custom prints and licensing start around $100 (CAD). To discuss details about acquiring a print or licensing an image, you can send us an email.
Beyond the Website
Before we took an indefinite break in 2006, some of this work made its way from the website into the 'real' world.
Selected Exhibitions
Sharing Our Places

2006, Edmonton, AB

Memories from the Day Shift

2006, Newmarket, ON

In Transit

2006, Toronto, ON

Picture the Cure

2005, Toronto, ON

Enemies of the Ordinary

2005, Toronto, ON

Diamond & Schmitt Retrospective

2004, Toronto, ON

Figure Studies

&

Daily Photography

2004, Unionville, ON
Selected Publications
2008 Calendar: Green Arts Barns

Toronto Artscape, Nov 2007

Life in the Decay: Per Contra Interviews Kendall Anderson

Per Contra Magazine, Spring 2006

L'exploration urbaine, Ça vaut le detour

Canadian Broadcasting Corporation, air date: Feb 4 2006

Shipbreaking… Bad News Good News

Lake Erie Beacon, Dec 23 2005

&

Jan 6 2006

The Brick Works — The Place That Built Toronto

Eye Magazine, Oct 27 2005

New DVD A Trespasser's Delight

The Globe and Mail, Sep 16 2005

Echoes of Forgotten Places

(documentary film), Jun 2005

Empty Endeavours — Kendall Anderson

CBC Radio 3, Oct 29 2004 issue
Site History
In 2003 a friend told me about a website where the owner was posting a new photo each day. It was a photoblog, although that term wasn't familiar at the time.
I'd recently bought a digital point-and-shoot camera: the Canon G2. The challenge of a photoblog — a forced posting on a regular basis — seemed like a great way to gain experience with the camera and hopefully get better at making images.
This led to many photographs, numerous adventures, and a bunch of web development. The website's timeline sort of looks like this:
Version 1 (Dec 2003 to Feb 2004)

Anyone can post a photo each day, right? Let's just whip up some HTML and photograph something around the apartment…

Version 2 (Mar 2004 to Dec 2005)

This isn't manageable. It's time for a template-based database-driven site. And, I'm running out of things to photograph in the neighbourhood.

Version 3 (Dec 2005 to May 2006)

A 4-hour drive to photograph something crumbling is entirely reasonable. Things are looking stale so it's time for a site redesign.

Version 4 (Jan 2011 to Nov 2014)

Two kids and 5 years later… Life is a little more complicated now. There'll be a photo every once in awhile, but we're no longer a photoblog!

Version 5 (Nov 2014 to Dec 2019)

Yet another site redesign, treating it primarily about the abandoned/industrial photo galleries.

Version 6 (Jan 2020 onwards)

Well it's been about 5 years, time to redesign again right? This time it's a static site build using NodeJS, mobile-first and accessible.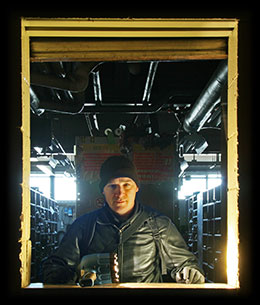 Contact Us
We're always interested in hearing from you. You can reach us via our email address.
Other Work
I'm also involved in a few projects unrelated to the photography here.
The Get Down Sound is the 4-piece rock/funk band I'm in (I'm the drummer).
Mose is an aggressive card game I enjoy playing with friends when I can find the time.
Twin Beaks is a group of Toronto area musicians who get together to perform completely improvised instrumental prog-rock jams. (I'm one of the drummers.)
Powered by…
Earlier versions of this site were built entirely with the Drupal framework. Over time that evolved to be a headless Drupal instance.
The current incarnation is a static site generated offline via NodeJS, with custom tools written myself. No database, no server side code. Faster, and more secure.
Maybe one day I'll get around to writing a technical overview but these days (2019) you can find everything you need on the web anyways so it's likely not needed. As always, if you have any questions, feel free to contact me.